Before you can stand on your haunches, you'll really have to survive that first yoga class . And that can be a bit of a challenge if you're not familiar with yoga etiquette. That's why we asked a yoga teacher to make a list of 10 tips you need to know before you step onto the mat. 
10 tips to survive your first yoga class
Of course, everything starts with choosing a class that suits you. Some studios work with different levels. As a beginner, go for a level 1 or a basic class. Or at 'all level' classes choose a quiet style to master the postures, such as Hatha, Restorative or Yin yoga. These are in principle suitable for everyone without experience. Made your choice? Then the list below may come in handy.
1. Yoga outfit
Put on comfortable clothes that move with you and make you feel good. It doesn't have to be a tight, fashionable outfit. Elastic clothes that fit well benefit your practice. That way you don't get your foot stuck in your baggy trousers when you try to put your foot between your hands. Or what about a shirt that is too big - in which you sometimes sleep - that suddenly falls over your head in downward dog. Another advantage of tight clothing is that the teacher can see how you are performing the posture and can therefore give you more specific instructions.
2. Be on time
Show up about 10-15 minutes before the class starts. Then they can show you around the studio and you have all the time to settle down on your mat. Depending on the type of class you can pick up a block, pillow and/or fleece blanket that the yoga school provides. Rushing in is not a good start for you or the other participants and makes the transition to a relaxed yoga class rather abrupt'.
3. Shoes off
At some yoga studios you leave your shoes on the doormat or, a bit milder, in the changing room. Call it an unwritten law. You never walk into the yoga room with shoes or slippers on. You may have to get used to it, but when you unroll your mat, it's nice to know that no one has walked on the floor with their dirty shoes.
4. Noble Silence
As soon as you enter the average yoga school, you can feel it: laughing out loud and chatting up are not the order of the day here. Before the class starts everyone looks for a place in silence. This is in contrast to the chattering of the dumbbells at the gym. Before the class starts, students are already turning inwards. Around you, some are meditating, others are doing a few stretches or lying down for a while. It helps with the transition from a busy working day, where all attention is focused on outdoor , to a yoga class in which you are going to receive and let go of all thoughts of the day. Not very social, in other words. But believe us: the way in is a challenging and bumpy road and you will have your hands full.
5. Reporting injuries
This is also important after your first class ! The teacher usually cannot tell when you have an injury. Pregnancy, too, only shows itself after a few months. The teacher will appreciate it if you mention these things in advance. The teacher can then give you adapted exercises where necessary, and knows what is wrong if you are not doing certain exercises.
6. Take a peaceful break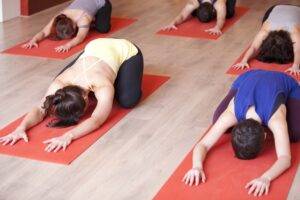 Even though it is a group class, remember that it is ultimately about your yoga practice. The teacher will give a class that fits the average of the group as much as possible. Is it too hard? Feel free to take a short break in 'child pose' (see photo). In the end, only you feel how your breathing is. The goal is not to push yourself beyond your limits, but to stay present in your body and follow your breathing. Just pick up the thread when you are ready.
7. Do not eat before the class
Many yoga poses are upside down, or create twists in your stomach. And believe me, they don't feel very good when you've just eaten. In addition, the class can be dynamic, causing your body to send all the blood to your muscles and reducing the blood flow to your digestion. So the food is not digested properly during the class and does not give you energy. Instead, it makes you tired and puts a strain on the body. Do not eat 2 hours before the class starts. Think of it as intermitted fasting. If you do feel like eating something before the class, try to stick to a piece of fruit, a healthy bar or a juice.
8. Stop comparing
As in everyday life, the temptation on the yoga mat is to compare yourself to your neighbour. Don't do it! This is exactly why your yoga practice only really starts when you step off the mat. We all have different bodies. Some are born flexible and others have more strength. Some of your fellow students may have a year-long yoga practice (or a background in gymnastics) behind them, while you are just getting on the mat for the first time. Being flexible is not always better. Respect your body's limits and get the most out of class. Flexibility will follow.
9. Meaning of Namaste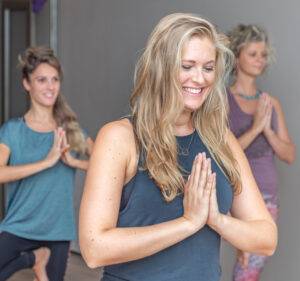 There are several translations for Namaste. In general, they boil down to the following: 'The light in me, greet the light in you. Think of it as an exchange of respect after the class. But also as a recognition that we all come from the same thing, are made of the same thing, and all carry a light within us. This is in line with the non-dualistic philosophy of yoga. Therefore Namasté (hands together near the heart) is often used as a greeting at the beginning or end of the class'.
10. Clean your mat
Did you think that after primary school, chores were a thing of the past? Well, no. After a yogaclass every student is expected to clean the mat that has been worked on for about an hour and a half. Find the spray with water and essential oils. Take a ball of paper and spray it generously to wipe your mat with.